How did the media get it so wrong ... or did they?
18 January, 2018:

The Citizen
The tragic New Years day accident on Table Mountain, that took the lives of Ian Slatem and Chinese tourist Manyee Chu, was initially misreported as an 'abseiling' accident and the deceased woman as a 'Japanese man'. Numerous media organisations described how a 'local guide' and 'Japanese couple' had all 'fallen while abseiling', with two of them 'dangling from ropes', while the third had (miraculously) survived by 'falling onto a small ledge'.
In fact it was a rock-climbing accident and it was only Slatem that fell, with Chinese tourist Manyee Chu killed instantly by a rock apparently dislodged by Slatem, leaving the third woman on the ledge, exactly where she had been before the accident. Photographs of the third woman administering CPR to Manyee Chu were described on social media as part of a rescue that had most likely not even started. And the surviving Chinese tourist was reported to have been 'taken to a local hospital' when in fact she had refused medical treatment and returned to the guest house in which she was staying.
How did the media ALL get it so wrong?
The next morning, News24.com, quoted Wilderness Search and Rescue (WSAR) spokesperson Johann Marais saying: "They were abseiling and were each tied to the rope and all three of them fell the (full) length of the safety rope ... There was no more rope."

News24
That comment prompted me, the writer, to speculate on the cause of the accident on Facebook, which Andre van Schalkwyk, claiming to be the WSAR 'Field Manager' of the rescue, described rather threateningly, as 'complete crap'. He went on to say: "I was the Field Manager on this incident and therefore am fully aware of exactly what occured." If he did indeed know "exactly what occured", why had WSAR reported the incident as an 'abseiling' accident?
I removed the post in anticipation of the correction, promised by Van Schalkwyk ... which never came. So I started to investigate the accident myself, for Weekend Argus. Ironically, it all leads back to Van Schalkwyk himself.
The same day as that News24 report, Africa News Network 7 featured WSAR spokesman, Johann Marais, describing the accident as an 'abseiling accident', to the ANN7 presenter. To his credit, Marais did preface his comments with "Well, we don't exactly know what happened to them", but then went on to say "... all we can tell you is that they were abseiling against Table Mountain and something must have happened which caused the three of them to all fall ... causing injuries to two of them, which was fatal, whereas the third person survived the fall", as if those were all established facts.
When confronted with this, Marais claims the report "must have been edited" and said WSAR is "contemplating filing a complaint with the Press Ombudsperson" because "the media quoted me and put their own information in between, so that it looks like it's all mine, but it's not all mine".
News24, Eye Witness News (EWN), IOL, The Citizen and SABC all consistently 'misreported' those 'facts', quoting Johann Marais of WSAR. Only Times Live appear to have refrained from relying on WSAR, so that report by Dave Chambers was not as jaw-dropping.
IOL and eNCA also quoted SAN Parks regional spokesperson Merle Collins, repeating the same misinformation, which she confirms came directly from WSAR. Collins confirmed that SAN Parks have revised their communication protocols, as a result of the misinformation.
Last week, Marais admitted that the paramedic who attended to Manyee Chu had mistaken her for a man, but he declined to identify the paramedic. Marais also said that at the time of the accident he was 400km out of town and that his information had came from Andre van Schalkwyk (via his "designated messenger"), who led the Mountain Club of South Africa (MCSA) technical team, to retrieve the bodies from the mountain.
The WSAR website still (incorrectly) claims "Three climbers fall on Arrow Final route, one survivor" and points readers to the News24 report.
Deaths on Arrow Final were a 'freak' accident
15 January, 2018:
So, the facts as best we're ever likely to know exactly what happened out there on the face of Arrow Final.

Published in Weekend Argus, 13 January 2018

Weekend Argus
It appears WSAR is wholly reponsible for the misinformation about this tragic accident, as the media all consistently reported WSAR describing this as an abseiling accident; and apparently the paramedic who attended to Manyee Chu mistook her for a man, thus reporting the tourists as a 'Japanese couple'.
The Dereliction of Tafelberg Road
8 June, 2017:
Once offering some of the most stunning views of Cape Town by night, the last 2.7km of Tafelberg Road remains closed to the public and continues to deteriorate.
Tafelberg Road winds around the base of Table Mountain at about 400m above sea level, from Kloof Nek to the western flank of Devils Peak. The road ends just below Woodstock Cave and becomes a footpath leading to Kings Blockhouse and Rhodes Memorial.
Rockfalls and landslides have damaged the last section of the road, making it impassable for larger vehicles; and a barrier now restricts access. While the City neglects the issue, the road has deteriorated with large potholes and vegetation now growing through the tar.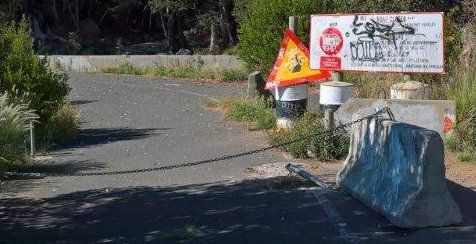 The road has been closed with a heavy chain and concrete block, on a corner just metres from a culvert that diverts a stream underneath the road.

Photo: Tred Magill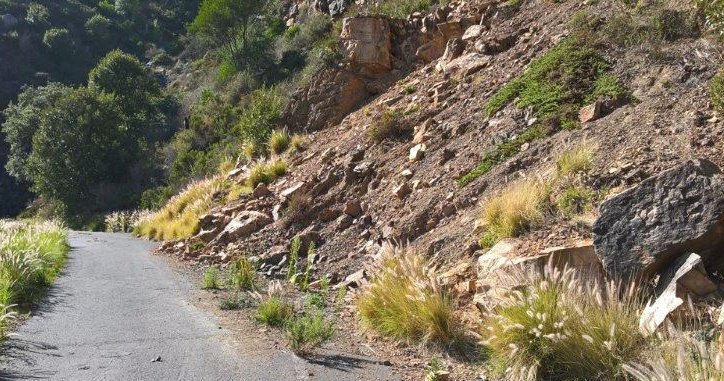 The closure is just metres before a rockslide, which has covered one lane of the road, making the road impassable for vehicles.

Photo: Tred Magill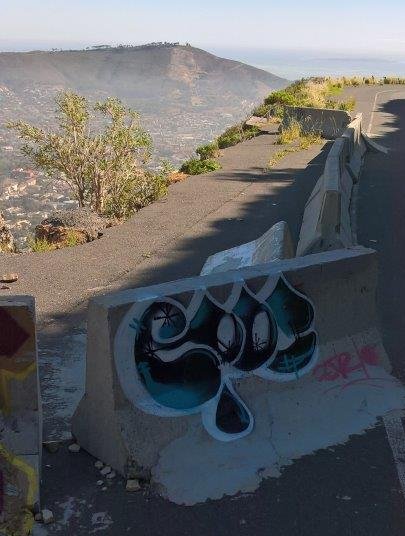 Further on, part of the road was broken and fallen away, down the side of the mountain; and concrete bollards restrict access, to prevent vehicles driving over the edge.

Photo: Tred Magill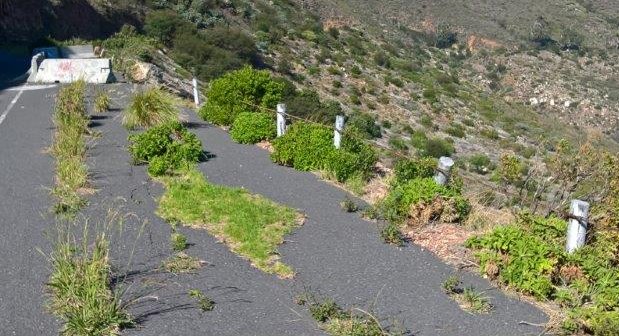 While further on, the vegetation pushes through the tarred road.

Photo: Tred Magill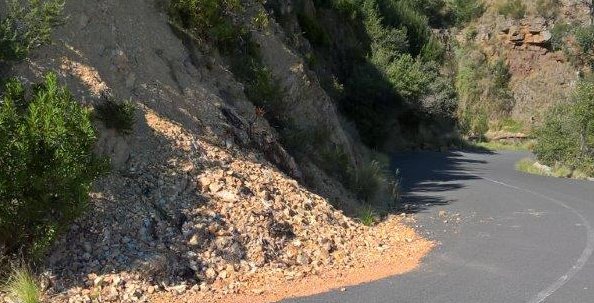 And landslides that have left soil and rocks covering the road.

Photo: Tred Magill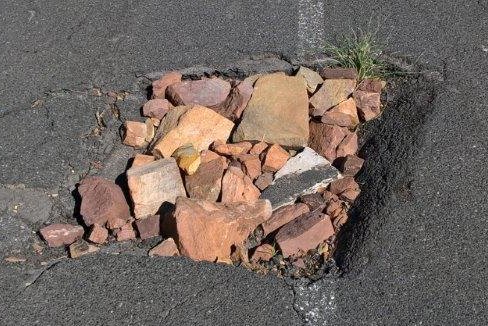 And loose stones have been used to fill large potholes.

Photo: Tred Magill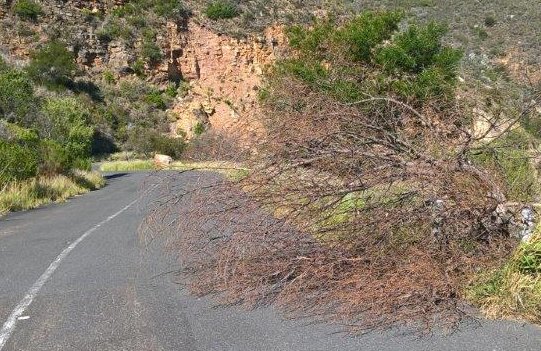 And dead, fallen trees obstruct the road.

Photo: Tred Magill
Ironically, if repaired, this end of the road could possibly be used as a holding area for tour coach buses, to alleviate the parking around the lower cable station; and at the same time offer a high-level, scenic view of the city bowl, Lions Head, Signal Hill, Waterfront and Robben Island.
No plans for more parking on Tafelberg Road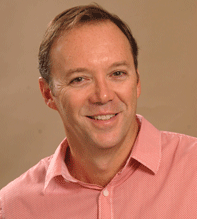 City Councilor and Mayco member for Transport, Mr Brett Herron.

Photo: www.tct.gov.za/en/leadership/
6 June, 2017:
It seems the City has no intention to provide additional parking on Tafelberg Road, for access to Table Mountain cableway.
Addressing the issue in response to complaints about tour bus operators blocking Tafelberg Road, City Councillor for Transport, Mr Brett Herron said: "parking would be a short-lived solution as research has proven that an increase in road capacity is usually taken up within two to three years." He added that additional bus parking would come at a "substantial financial cost to Cape Town's ratepayers, and possibly the environment."
"The demand for access to Table Mountain will only increase in future and long-term solutions must be sufficiently robust to accommodate this demand. Provision of additional bus parking on Tafelberg Road will come at a substantial financial cost to Cape Town's ratepayers, and possibly the environment."
Instead, the City's Transport and Urban Development Authority, will address Tafelberg Road parking with TMACC, tour bus operators and the public, to find "a cost-effective, environmentally sensitive and sustainable solution".
Without elaborating on how or where, Mr Herron said tour operators should "embrace just-in-time operations and remote holding of their buses".
Meanwhile, tour bus operators can expect stricter enforcement on Tafelberg Road. Cape Town Traffic Services Spokesperson, Richard Coleman said a "Traffic Wardens Project", as is currently in place at the V&A Waterfront and Central City Improvement District, had been proposed as a "short-term recommendation", at a meeting on 24 May 2017. According to Mr Coleman, a total of 66 fines were issued for moving violations, defects and parking in the last four months.
Tour coaches create havoc on Tafelberg Road
17 May, 2017: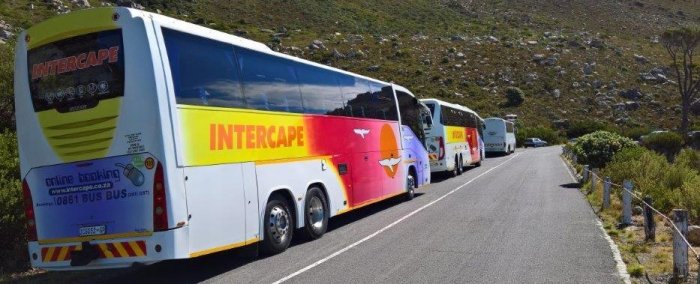 Tour coaches blocking one lane of Tafelberg Road.

Photo: Tred Magill
Tour coaches are blocking Tafelberg road and obstructing traffic, while the Table Mountain Aerial Cableway Company (TMACC) and City of Cape Town, both deny responsibility for regulating Tafelberg road.
The slope of the mountain and the narrow width of Tafelberg Road creates a shortage of parking for visitors. Just beyond the lower Cable Station, there is space for just six to eight coaches.
At the peak of the 2016 season in January, as many as seven coaches were lined up in Tafelberg road, creating a 100m obstruction to traffic. The coaches are wide vehicles and without anyhwere to pull off the road, these coaches turn sections of Tafelberg Road into a one-way.
TMACC Managing Director, Wahida Parker, says traffic congestion on Tafelberg Road has been 'repeatedly' raised with the City of Cape Town, but the traffic department 'has not done enough' about the issue.
She added that while a number of initiatives had been taken to alleviate traffic congestion, including the free shuttle serivce running from Kloofnek and the 'Drop & Go' for taxis, the City denies responsibility for Tafelberg Road.
Tourists vandalise Table Mountain Sandstone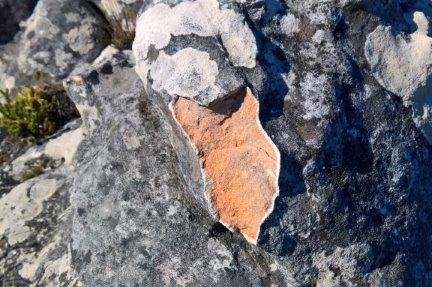 Raw rock exposed and the white Lichen cleary visible above the 'scar'.

Photo: Tred Magill
17 May, 2017:
Tourists are vandalising Table Mountain by breaking off large chunks of Table Mountain Sandstone; apparently to take back home. This can be seen quite regularly on the paths around the Western table, which is controlled by the Table Mountain Aerial Cableway Company (TMACC).
Even though the breaking and removal of any natural resource from Table Mountain is an offence, punishable by a R500 fine; neither TMACC nor Nature Conservation have made any effort to stop this practise. Much of Table Mountain Sandstone is covered with Lichen, a kind of fungus which grows on the Sandstone. When the rock is broken, it leaves a very obvious 'scar' on the rock.
A representative for Nature Conservation, Ms Matha Batha and TMACC Managing Director, Mrs Wahida Parker, both said they had not been aware of the problem. Nature Conservation is responsible for the area from Deer Park up to Maclears Beacon, which is the summit of Table Mountain; but the area around the Upper Cable Station is leased to TMACC by Nature Conservation.
TMACC and Nature Conservation have quarterly meetings and a working arrangement to report any issues to Nature Conservation. TMACC also have signage at both cable stations and advise visitors by announcements inside the cable car, not to remove anything.
India-Venster fork blocked to dissuade hikers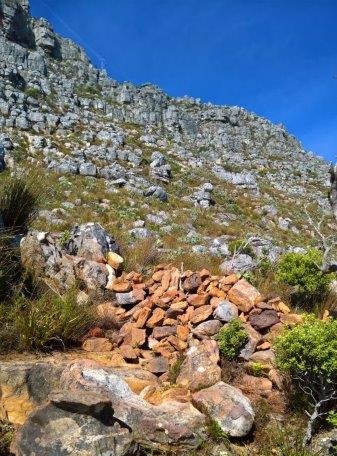 Blocked: the right-hand fork on India-Venster

Photo: Tred Magill
3 March, 2017:
Since writing on 24 February, 2015, about the confusing fork on the India-Venster path, from which visitors are likely to get lost, I see the fork which leads to Kloof Corner Ridge has been blocked off. I noticed this some months ago and yesterday snapped a photo of the rocks which now block the path.
This obvious indicator is a great help to keep inexperienced hikers away from the more hazardous Kloof Corner Ridge, but sooner or later that pile of rocks is going to disperse.
There is no indication this is the work of Nature Conservation; and if anyone knows whose work this is, I would like to know too; and I still feel a permanent sign, clearly indicating the direction of the India-Venster route is well-advised.
Chockstone Gully: Grade D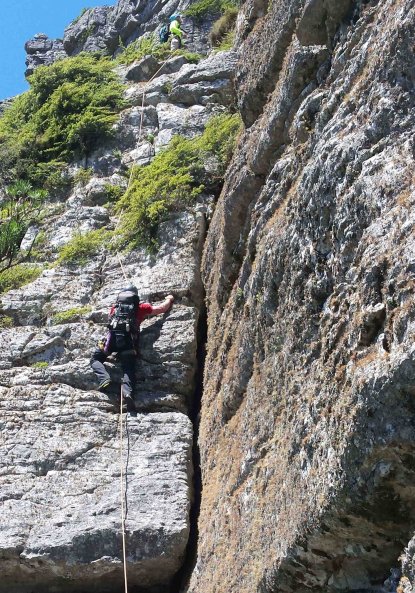 The first pitch of Chockstone Gully

Photo: Chris
11 December, 2016:
Chockstone Gully is an interesting 'D' grade climb on the Eastern Table of Table Mountain, with a variety of stances and moves.
The first pitch is easy enough, as seen in the photo here. On the 2nd pitch a narrow chimney makes the ascent rather awkward, especially if carrying a backpack. And the 3rd pitch features a rather daunting and tricky underhang, which exists through the roof of a chimney.
Overall an interesting climb, requiring a range of technical ability.
Be warned: Skywalk is not a 'route'
22 July, 2016:

As a mountain guide I'm often looking for interesting alternatives to guide tourists up Table Mountain, so it was with great interest that I read of the 'Skywalk' in the 2011 edition of Tony Lourens' book (Table Mountain Classics). So, I set out one day with a girlfriend to explore this 'route'.
Kloof Corner is a well known route with a very distinct path. And there is also a very distinct path from there to Venster Buttress, so I wonder why he uses the words 'pick a line' .... which is a term used to refer to an imaginary line which describes the edge or border of a feature of some sort (the base of the rock face, or a narrow gap in the vegetation caused by erosion). Well, we found out a bit further on ...
The India-Venster path is also a distinct and well-used path, but there is no 'line' across to middle Arrow buttress, so we found ourselves 'bundu-bashing' through the fynbos and some very loose ground ... which is of course both difficult and tiring.
Then there is some rocky ground around the base of middle Arrow buttress, which is solid enough ... but coming around that corner into Africa Ravine, leads to ... well just more rocky ground and thick vegetation. So, '... keep an eye out for a line across the slopes ...', is more confusing than helpful.
Ok, so now we're pretty much exhausted and my companion demands to get down via Yellowstone gully; but I advise against this, as I think we're going to struggle more to get down, than to just see this through ... and I don't like 'giving up'. But it doesn't get easier ... just more loose, steep ground and thick vegetation to fight through; and even the traverse into Platteklip Gorge is on a very steep, soft grassy slope ... which is again, awkward and tiring.
In a nutshell, it is grossly misleading to refer to this as a 'route' and to suggest that readers follow 'lines' that do not exist. It took us a full 6 hours to battle across this traverse, which he describes as a '... relatively short, easy day out ...', to be done in 3-4hrs. Be warned! ... there is no path across this traverse and so certainly not much fun, unless you enjoy fighting your way through Fynbos just to prove you can get from A to B.
Constantia Corner : Grade B
17 July, 2016:

On the southern end of Table Mountain, Constantia Corner must be the most spectacular hike, offering the most stunning views across the Cape Flats to the Hottentot Holland mountains, Cape Hangklip, Constantia Valley, Vlakkenberg and Hout Bay Valley.

The magnificent panorama, taking Constantia Valley and the Cape Flats, right across False Bay to Cape Hangklip.

Photo: Tred Magill
This hike starts at the car park at Constantia Nek. As you pass through the gate and on to the dirt road, a narrow path branches up and off to the left. This takes you up to a small ridge, between Eagles Nest (a large outcrop of rocks on your left) and Constantia Corner above on your right (20min).
The path flattens out and winds up the side, from where you will see right across Hout Bay Valley. A cairn marks a rocky outcrop, where you should turn right and clamber over some rocks for just a few metres before turning right, out of the rocky outrcrop to follow the path up through the thick vegetation. At the top of the ridge you'll find yourself on the Constantia side once again, looking out over the panorama of Constantia Valley, Cape Flats and across False Bay to Cape Hangklip. Navigate around a very large rock (3m high) and follow the path to the next ridge, from where you can see both the Constantia and HoutBay Valleys, on either side.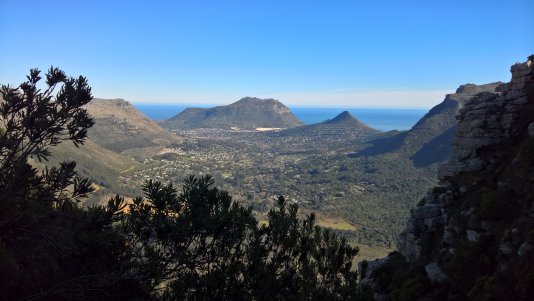 Looking out across Hout Bay Valley, with Vlakkenberg on the left and Karbonkelberg and Klein-Leeukop in the distance.

Photo: Tred Magill
Now the path meanders about 100m across a small plateau towards a higher outcrop and an obvious, narrow gap. Through the gap and up another 50m and you're on top of Constantia Corner; about 750m above sea level and about 1hr from Constantia Nek. Follow the undulating path through two small valleys and a very interesting rock formation (another 20min) and you'll find yourself looking down on the De Villiers Dam. The path then turns towards the east and meets a concrete road, which is the Bridle Path (or 'Jeep Track').
From here you can opt to follow the Bridle Path to the Woodhead Dam, just 30min further; or turn down to your right and follow the Bridle Path back down to Constantia Nek.
Intrepid couple do the double : Grade B
31 March, 2016:

Many visitors to Cape Town, want to climb Table Mountain. But it's not often I'm asked to guide tourists up two of our peaks in one day. But Martin and Inge, two intrepid young hikers from Germany were determined to do just that, before the autumn rain set in.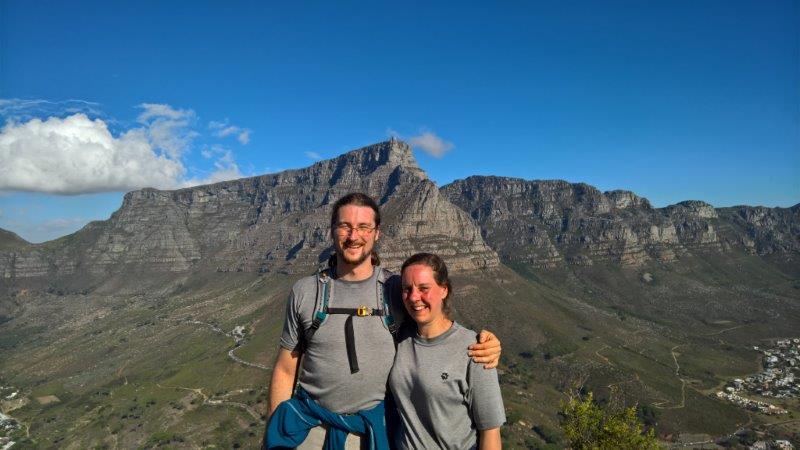 Martin and Inge savour the achievement on top of Lions Head, having completed the two peaks.

Photo: Tred Magill
We set out late and negotiated our way through the thick traffic on Tafelberg road to find parking. From there, we climbed the steep path to Kloof Corner were they took in the first of the spectacular views on this well-known, yet not so well-travelled route. Then on to the start of India-Venster and on up, stoppping at the 'Venster' (window) for the classic photo opportunity, with the cable car ascending in the background. We stopped on top of Venster buttress briefly, where some irredescent Sunbirds joined us for lunch. We were doing well and the sky was clearing, just in time to enjoy the views of Camps Bay and Clifton beaches, from Fountain Ledge. At the top, we circumnavigated the circular path around the western table and made our way down in the cable-car.
But Martin and Inge still had energy to spare, and so we pulled into the parking on Signal Hill road, and proceeded up the track around Lions Head. Up the chains and it was only an hour before Martin and Inge were marvelling at the exquisite 360 °C, panoramic views. The double, at a leisurely pace, in just 5 hours of hiking/scrambling. Well done!
Grootkop : Grade A
11 October, 2015: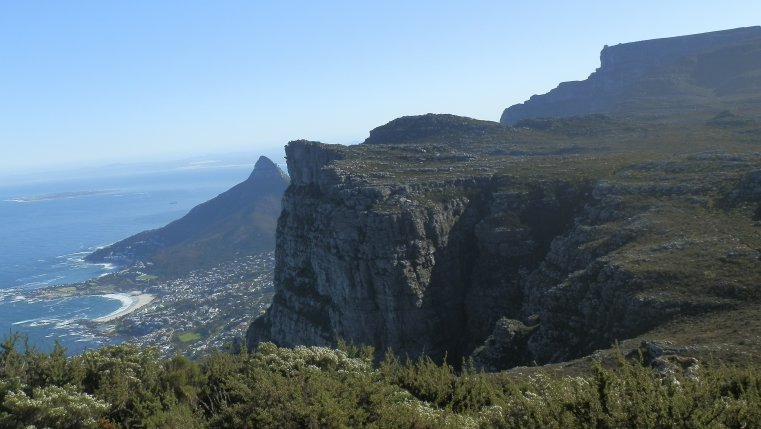 The view from Grootkop.

Photo: Tred Magill
Grootkop is one of the peaks of the Apostles', that spans the entire width of the western 'arm' of the Table Mountain horseshoe. The peak features some interesting caves, but which are not that easy to find, as the path is seldom used and difficult to follow. Yet the hike is worthwhile and offers some spectacular views including the entire width of the front face of Table Mountain, Lions Head and Robben Island, which can be seen in the photograph above.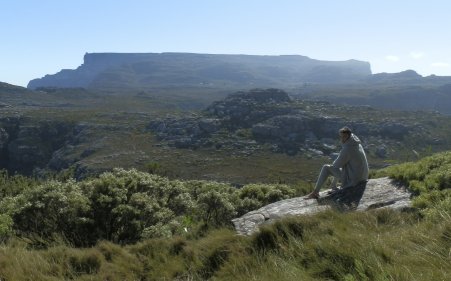 A wider-angled view from Grootkop, taking in the entire Front-table seen in the distance.

Photo: Tred Magill
The peak is easily accessible via the Pipe Track which leads straight into and up Corridor Ravine, to bring you to the top of the Back-table. From there, turn right to follow the Apostles path for about 15min to get to the base of the peak. As you approach, the Apostles Path continues around the Eastern side of Grootkop and a smaller path veers off on the right to approach the peak directly. The front (northern) face is very rocky and a variety of large boulders and some small, short rock faces have to be negotiated to get to the caves. The alternative is to follow the Apostles Path to the Southern side, climb up to the summit and then scramble down from the peak, onto the northern face.
India-Venster : Grade B
2 August, 2015: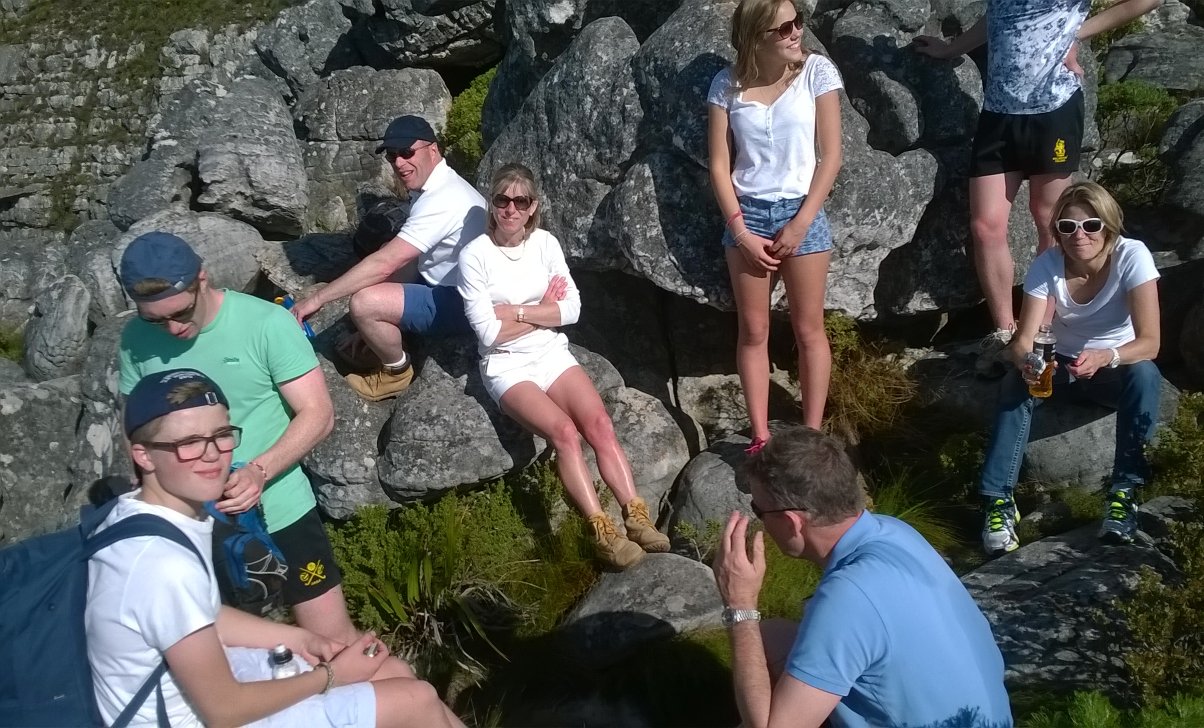 Group of eight UK visitors enjoying a short break on top of Venster Buttress.

Photo: Tred Magill
A group of 8 visitors from the UK made the most of the extraordinary weather, to cimb the India-Venster route, making for a most spectacular day. With sunny and clear skies, the weather made for exquisite views right across the peninsula and over to see the snow-capped mountains in Du Toits Kloof.
Why tourists get lost on Table Mountain
24 February, 2015:

Over the years, I've occasionally come across tourists who have lost their way on Table Mountain. Almost all of these hapless tourists have been looking for or thought they were on the the very well-known Platteklip route, which many visitors hear about and head for, to avoid the cost of a guide.
Platteklip is indeed a very easy and relatively safe path - certainly the safest for tourists; but then you MUST make sure you are acutally on that path. It recently occurred to me why these folk might be finding themselves on India-Venster, or even Kloof Corner Ridge; without knowing it.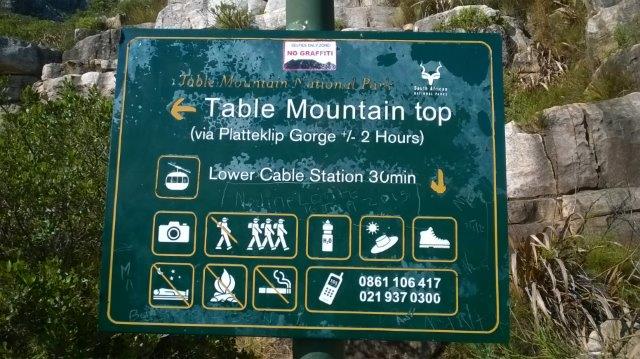 The 'ambiguous' signboard - right behind this sign is the start of the India-Venster route.

Photo: Tred Magill
Nature Conservation have this sign on the contour path, directly above the Cable Station and right in front of the start of India-Venster. There is only this sign, which points the way to Platteklip and makes no reference to India-Venster, which starts immediately behind the sign. So does the hapless tourist follow the direction of the sign, along the contour path, or do they follow the steps behind the sign; and blunder onto the much more precarious India-Venster route, which is more difficult and on which they could get lost?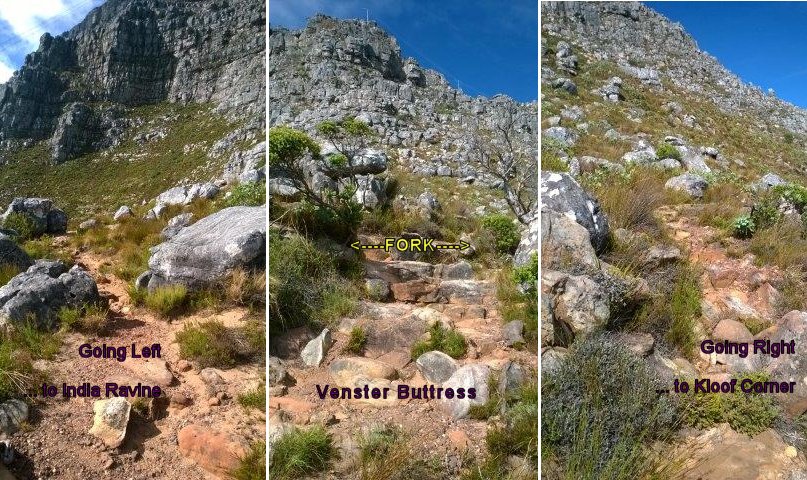 Approaching the top of Venster Buttress - go left and you're looking across towards India Ravine; go right and you're heading towards Kloof Corner.

Photo: Tred Magill
And the 'getting lost' happens at the top of Venster Buttress where the path splits and goes both left (correct) or right towards Kloof Corner Ridge, where I once found two German ladies contemplating the chains up there. Unfortunately, there was nothing there to inform them.
It would help a lot if Nature Conservation were to mark the bottom of India-Venster and put an additional sign at the top of Venster Butress to mark a path that could otherwise become rather perilous.
India-Venster : Grade B
19 February, 2015:

Not at his fittest and a little fearful of heights, it was going to be a challenge, but Paul Sliwa rose to it and achieved the summit of Table Mountain via the India-Venster route, in a very respectable 3 hours.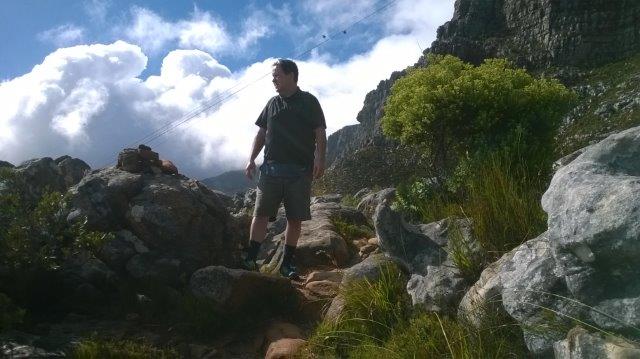 Paul Sliwa, from Florida, USA, takes in the view from the top of Venster Buttress.

Photo: Tred Magill
The first 30min, from the lower Cable Station to the Contour path, is often enough to put most visitors off. Despite being tempted to quit, Paul doggedly continued up Venster Buttress and finally got his second-wind.
From there it was just the narrow ledges on the upper reaches of Arrow Buttress that nearly unnerved Paul, but with sheer determination and strength Paul hauled himself up and onto Fountain Ledge which we traversed in more leisurely fashion; and on to the top. Well done Paul!
The start and end of all scenery
17 December, 2014:
"Mountains seem to answer an increasing imaginative need in the West. More and more people are discovering a desire for them, and a powerful solace in them. At bottom, mountains, like all wildernesses, challenge our complacent conviction - so easy to lapse into - that the world has been made for humans by humans. Most of us exist for most of the time in worlds which are humanly arranged, themed and controlled. One forgets that there are environments which do not respond to the flick of a switch or the twist of a dial, and which have their own rhythms and orders of existence. Mountains correct this amnesia.
Photo: Self
By speaking of greater forces than we can possibly invoke, and by confronting us with greater spans of time than we can possibly envisage, mountains refute our excessive trust in the man-made. They pose profound questions about our durability and the importance of our schemes. They induce, I suppose, a modesty in us." - Robert Macfarlane, Mountains of the Mind: Adventures in Reaching the Summit
Solitude in the Thomas Hut
14 December, 2014:
It was supposed to be a 3 day hike across the Hex River Traverse, but after a 1000m ascent to the Thomas Hut in the mountains above Worcester, my blistered foot, the harsh sun, my 17kg backpack and a distinct lack of enthusiasm for another 2 days of hiking to the Pells Hut above Ceres, I bid the rest of the group farewell and stayed behind.
Solitude, at last!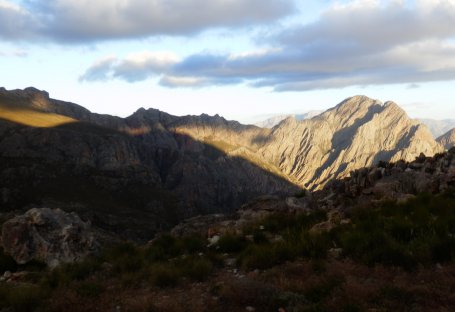 The folded mountains above Worcester

Photo: Self
So, what do you get up to when left to your own devices for 2 days, alone in the mountains? First thing to do? Get naked! I stripped and bathed in the sunshine.
Within 2 hours, I turned bright red and realised my pale skin had had enough of the sun and I should retreat into the hut. There I found and read a small book of short stories from Southern Africa; including stories by Doris Lessing, Alan Paton and Nadine Gordimer. I also found the latest 'Trail' magazine and brushed up my knowledge of trail-running equipment, shoes and nutrition. I played solitaire, but found that decidedly uninteresting.
I heard tiny paws, scurrying around the hut and spotted the mouse that inhabits the Thomas Hut; an interesting creature with amazing agilty, managed to climb in a plastic packet hanging from a shelf and out again, up the rough walls of the hut with absolute ease and confidence. An example to anyone with rock-climbing aspirations ... not that I was doing any climbing at all!
Arrow Final : Grade E
7 December, 2014: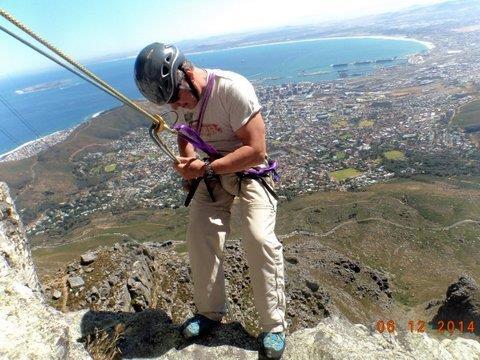 Preparing to abseil.

Photo: Miles Adams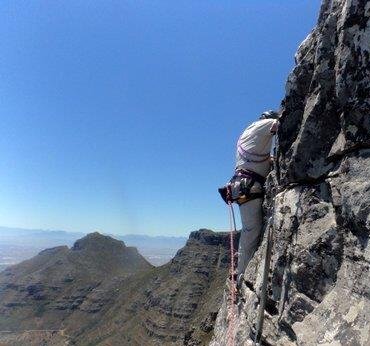 Climbing up - on the first pitch of Arrow Final.

Photo: Miles Adams
Arrow Final is a series of four pitches on Arrow Buttress, directly below the upper-cable station. It was first climbed in 1897, by the pioneering Travers-Jackson.
We popped up in the Cable car and did 3 long (40m+) abseils to get down to the base of the climb.
The route ascends spectacularly, directly below the cable car, to add a moment of awe and surprise to the visitors ascending in the Cable Car; who often see climbers on the rock-face.
The route is very exposed but is really much easier than it looks, with plenty of hand and foot-holds to help you up.
I'd been wanting to do this rock-climbing route for years - and it was AWESOME!. Thanks to Brian Watts for getting us out and up there.
Kloof Corner Ridge : Grade C
21 September, 2014: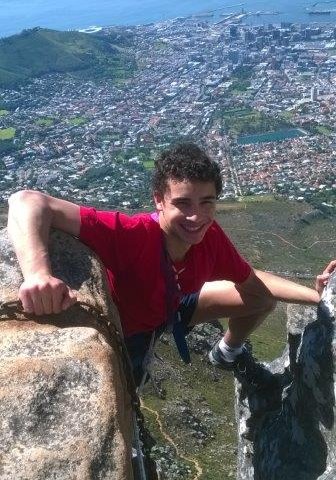 Joshua stepping up to the top of the route, with the panarama of the City Bowl in the background.
Kloof Corner Ridge is the distinct ridge that ascends from the Contour Path on the North-Western corner of Table Mountain to Fountain Ledge, just below the Upper Cable Station.
The route is graded a 'C', is quite exposed in parts and includes a sheer 20m pitch, where some chains have been installed to assist climbers.