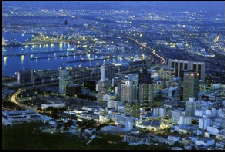 Cape Town city at night. The city has a thriving nightlife which includes a wide variety of restaurants, wine, live music and nightclubs.
Cosmopolitan Cape Town Central has more than enough to keep you busy for the morning.
Our well-informed guide will treat you to the traditional, historic city spots which include: the Bokaap (Old Malay Quarter), Company Gardens, Parliament buildings, the President's residence (Tuynhuis), the National Art Gallery, SA Cultural and Historical Museums; and the Holocaust Museum.
Be amazed by the awesome Planetarium where you can set your sights on the stars before coming down to earth, to the hip-hop happenings at famous Greenmarket Square.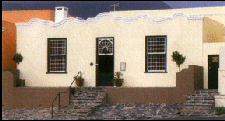 The Bokaap Museum. The Bokaap community is rich in history, going back to the earliest days of the Cape.
See the Castle, the Parade, and do some underground shopping before moving on to the V&A Waterfront - a tourist 'MUST'!
Then, depending on your preference, take an easy ride up the cable car to the top of Table Mountain, or pick up shells on Big Bay, Bloubergstrand - an international surfing hot spot, where the best of the bunch brave the icy Atlantic waters. Wherever you are, you're safe in the shadow of Table Mountain.