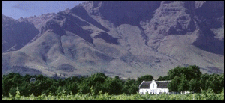 The picturesque Franschoek valley.
Stellenbosch is wine country! Take a walk-about tour of this traditional student village, home of the University of Stellenbosch.
In season you may even catch the young and lively taking in sundowners at their favourite haunt, the infamous 'Dros'.
From there we'll move on to view the geological wonder of folded mountains of sedimentary rock before the day's main highlight, a visit to three wine farms of your choice (depending on your wine preference) followed by lunch in the quaint Franschoek village.
We'll take a historic drive past the Hugenot monument and onto Paarl, for a cheese and wine cellar tour before viewing the traditional Taal monument on the journey home again.